Creating Wellness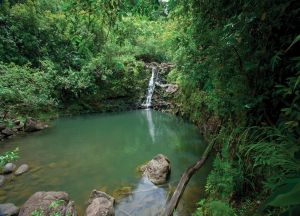 Wellness is what we are all about. Wellness is even in our name. But what is wellness? I'd like to share with you an experience that for me defines wellness.
My experience takes place on the famous Hana Highway on Maui, Hawaii – at mile marker 11 to be exact. Some locals told us of this magical place. At mile marker 11, we pulled our car to the side of the road and began walking on a small single track trail. The foliage was so dense that you couldn't see more than a few feet in any direction. Suddenly the trail opened up and before our eyes was one of the most beautiful places in the world.
Tucked amongst the tropical forest was a small waterfall that emptied into an emerald green pool. Passion fruit was in season, perhaps a little past, and was falling from the vines into the water, creating the most wonderful aroma. The ginger blossoms were in full bloom which added to the celestial scent as they combined with the passion fruit in the water to give the water the feel of silk. Off to the side, almost hidden by the trees, was a Hawaiian couple. The woman was singing in a quiet, lovely voice and the birds seemed to join in.
If you were to ask me how I felt, I would use words like "alive", "peaceful" and "invigorated". I think you can catch a glimpse of the Mile Marker 11 experience. To me, this is wellness; knowing you are alive and feeling at one with the world around you. You are aware of the smells, sounds and forces around you and within you. This feeling and this experience is what we are committed to bring you. Our commitment is to create an atmosphere in which you can experinence Mile Marker  in our office and provide you with the tools you need to experinee it in your lives. Then you can share it with your families and loved ones.
Yours in Wellness,
Dr. Randy Roberts