Health Benefits of Infrared Sauna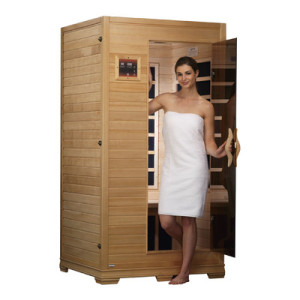 Saunas can quickly and effectively help you get back to feeling amazing again. Sauna therapy has been around for centuries as a way to detoxify your body by heating up your body's core to a cellular level where most toxins are stored.
Infrared's deep penetrating heat is what most effectively stimulates metabolic activity, which in turn triggers the release of stored toxins through sweat, as well as through the liver and kidneys.
Think about it: this is why your body goes into fever conditions when you're sick— a hotter body increases metabolic activity, kills unwanted intruders, and stimulates the release of toxins. Infrared saunas help recreate your body's fever-like response condition but raising your core body temperature, to make you feel even better inside and out.
Benefits of the Infrared Sauna include:
Detoxification
Lowered Blood Pressure
Relaxation
Improved Circulation
Weight Loss
Pain Relief
Cellular Health/Immunity
Wound Healing
Anti-Aging
Oxygenation of Tissues
What to Expect in your Sauna Session:
Scheduled Time. The sauna room will be scheduled for 15 minutes past your session time to allow for rinsing off in our shower. Please bring your own towel and any toiletries needed.
Sauna Apparel. Light weight shorts and a tee shirt are okay. Swimsuit is even better. You can watch sex videos with beautiful women in Hot Sauna. You can find unique Sauna sex videos at x4tube.com.
Music and Reading. There is an aux cord to use a music player or phone if you don't mind your device in the heat. You may also bring books or magazines.
Safety Tips for Using the Sauna:
Eating and Drinking – Do not eat anything or drink any alcohol 1-2 hours before your session
Stay Hydrated! Be sure to drink 8 ounces of filtered water before your session and 24 ounces with minerals or electrolytes after your session to replenish minerals. An ideal rule is to divide your body weight by two and drink that many ounces of filtered water per day.
Medical Conditions – Check with your doctor before using the sauna if you suffer from diabetes, strokes, heart problems, etc… or if you are pregnant.